2020 Multifunctional 7 in 1 new magic mirror monitoring aqua facial smart ice blue skin management system:
Skin Care Hydra Dermabrasion Machine / Microdermabrasion Machine :
Intelligent diagnosis (system automatic ‬analysis testing ‬knot fruit.)
Eight major inspection items: wrinkles, pores,Color Spots, roughness, oil, sensitivity, moisture, powder thorn.
10 million pixel micro photo distance‬image .
3 spectrum into  technical image ‬ technique (standard  white quasi ‬ light, cross deviation) Vibration, UV light  three these ‬spectrum skin to ‬skin or scalp The surface layer, dermis layer, hair follicles, pores march ‬scan Detection. Beite‬ isUV light used for ‬hair follicle inspection‮time measurement‬ Accurately judgment ‬Bottom of hair follicle Range‬. )
High score rate discrimination high-definition clear diagnosis(resolve customer faceMinistry issues protection and management.)
5G cloud interconnection (follow Xiaocheng, sequence‬input meeting The employee number can be Check ‬Cloud Check Results‬Result Report.)
Highly equipped with 6 major protections Exploration ‬head (to comprehensively solve the skin sex Problems, and inspection‬testing and timely care.)
Analysis results of detection points (intelligently recommended nursing products goods)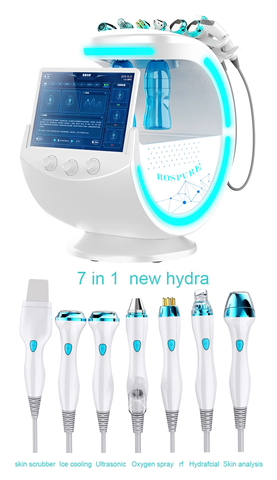 Feature
1) All-in-one: This product integrates skin detection, customized beauty solutions, product launches; basic beauty care,cuticlekeratin cleansing, deep cleansing, Deep hydration and nourishment, anti-aging maintenance, sedative maintenance and other functions are all in one. One machine has multiple functions and the market demand is great.
2) High comfort: The design of the handle conforms to the principles of ergonomics, and the material is skin-friendly and comfortable.
3) Functional principle: The core principle of this product is 3 spectrum sampling, AI intelligent skin measurement, AIintelligent product push, AI beauty program customization; six major care Functions: "ultrasonic spatula", "big bubble", "nano atomization", "ultrasonic", "golden radio frequency", "ice-seal repair".
4)Simple operation: AI intelligent analysis, convenient operation, easy to use, no surgery, no skin breaking, strong safety.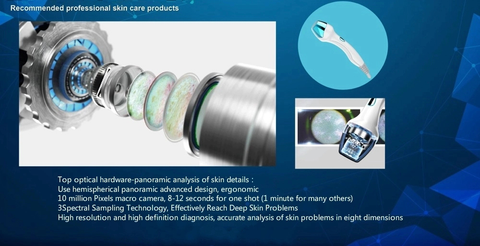 Handles
1.High-frequency skin scrubber: Through the action of ultrasonic and high-frequency vibration, it can remove the excess oil on the skin surface, aging cutin and dirt.
2.Ultrasonic head: The macromolecule nutrients are converted into small molecules by the action of ultrasound, making the skin easier to absorb.
3.Cold hammer: Reduces pores, firmes and shapes skin.
4.Ion spray pen: replenishes skin with moisture and nutrients.
5.Needling rf: Promotes the production of collagen and collagen fibers, plays a role in rejuvenating and reducing pores, and improving fine wrinkles.
6.Hydra aqua peeling: cleans the skin surface and excess pores in the pores, aging cutin and dirt.
7.Camera detection pen: detects skin problems.