7D HIFU Face lifting 
 Collagen renewal in the face triggered by HIFU involves heating the dermal and superficial muscular aponeurotic system (SMAS) layers that undergo separate phases of blood coagulation, wound contractions, and tighter shelving of new collagen to resolve the appearance of wrinkles and sagging skin.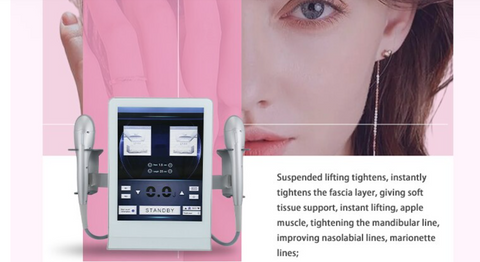 Functions:
1. Facial probe 1.5mm, 3.0mm, 4.5mm, contour shaping, lifting and tightening, dilution and removal of frown lines feet,legal lines, double chin, neck lines
2. Body probe, 6mm, 9mm, 13mm, reducing fat and shaping body, removing orange peel tissue&cellulite, tightening and lifting body skin, chest and buttocks
3. The patented 2.0mm probe has a significant effect on stretch marks, growth marks and obesity marks We are directly factory.
If you need wholesale with large quantity, pls message us.
MMFU Technology
High-intensity Focused Ultrasound for uniform distribution at multiple depths
MULTI-DEPTH
Cartridges that target multiple depths for diverse concerns and profiles.
Transferring stabilized temperatures
65~75°C into the targeted zones,  the 7D hifu aims to induce a process of neocollagenesis in the face while tightening body tissues for contouring purposes.
Patent 2.0mm Cartridge
The 2.0mm or "MF2" Cartridge of the 7D is designed to significantly reduce fine lines and wrinkles on the patient's forehead and around the eyes and mouth. When making firm contact with skin, this surprisingly thin transducer can target the narrow regions and contours of the face.
HIFU-powered transducers
Deliver concentrated waves of ultrasound into multiple layers of skin and body tissues without making direct contact with surrounding areas.
Comparable to utilizing sunlight and reflecting it through a magnifying glass to deliver a beam, the 7D treatment delivers ultrasound energy into the target region of the skin, stimulating and formulating collagen regeneration.
The precision in delivery of a high density of power, triggers neo-collagenesis naturally within the body.