Shockwave therapy is a multidisciplinary device used in orthopaedics, physiotherapy, sports medicine, urology and veterinary medicine. Its main assets are fast pain relief and mobility restoration. The concept and technology originally evolved from the discovery that focused sound waves were capable of breaking down kidney and gallstones. Generated shockwaves have proven successful in a number of scientific studies for the treatment of chronic conditions. Shockwave therapy is its own treatment for a lingering injury, or pain resulting from illness. You don't need painkillers with it - the purpose of the therapy is to trigger the body's own natural healing response. Many people report that their pain is reduced and mobility improved after the first treatment.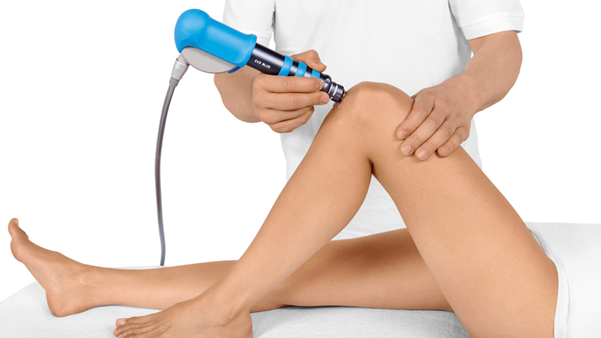 Shockwave therapy principle
The shockwave therapy equipment is based on the technology of unfocused low energy radial waves, which is a kind of acoustic wave which carries high energy to painful spots and fibrous or myoskeletal tissues with subacute, subchronic and chronic conditions. This energy promotes healing, regenerating and reparative processes of the tendons and soft tissue. The unfocused low energy radial waves scientifically proved to have a large impact on collagen structure and the skin connective tissue, improving blood circulation and the metabolism of fat cells. The mechanical massage effect reduces the edema and improves the lymphatic drainage of toxins. It stimulates collagen formation, while the skin becomes more elastic and its firmness is visible after only a few treatments.
How shockwave remove cellulite?
Extracorporeal
 Shock Waves 
Therapy
 (ESWT), emitting like pulses and create vibrations to attack fibrous strands around fatty deposits under the skin. It is a technique of loosening and breaking the fibers and releasing of fat, water, and toxins. Simultaneously stimulate the production of very active and healthy new collagen fibers and gradually restores elasticity and strength of the skin. Through waves accelerates blood circulation and so much more oxygen and nutrients to reach these areas. The end result is a much smoother and tighter skin quickly and permanently.
ED Treatment
Application 
1. Shoulder pain, calcific tendonitis;
2. Radial or ulnar humeral epicondylitis;
3. Trochanteric tendinitis;
4. Waist pain or pygalgia;
5. Patellar tendonitis;
6. Tibial stress syndrome;
7. Achillodynia;
8. Plantar fascitis.
9. fat reduction 
10.erectile dysfunction
Some of the benefits of shockwave therapy treatment:
Shockwave therapy has excellent cost/effectiveness ratio
Non-invasive solution for chronic pain in your shoulder, back, heel, knee or elbow
No anesthesia required, no drugs
Limited side effects
Main fields of application: orthopedics, rehabilitation, and sport medicine
New research shows that it can have a positive affect on acute pain