Zoom the image with the mouse
H2O2 small bubble facial machine
H2O2 small bubble facial machine
Specification:
| | |
| --- | --- |
| Name | 6 in 1 multifunction H2O2 hydrogen oxygen small bubble machine |
| Vacuum range | 80Kpa |
| Radio frequency | 1Mhz, Bipolar |
| lon Lifting | 500Hz (Digital lon Lifting) |
| Ultrasound | 1Mhz / 2W/cm2 |
| User interface | 8 inch Color Touch LCD |
| Input voltage | 100~120V, 50/60HZ / 220~240V, 50/60HZ |
| Noise level | 45Db |
| Weight | 20KG      46*43*30cm package size |
6 Functions in 1:
1. Hydra Water Facial Cleaner Aqua Peel :
Non-invasive exfoliation to cleanse, exfoliate, extract and hydrate the skin safely and painlessly.
2. Ultrasound: Through 1 million to 3 million vibrations, the essence penetrates deep into the skin, gently massages cells, promotes metabolism, increases cell viability,
and improves blood and lymph circulation.
3. Skin Scrubber vibration cleaning: Whitening, dead skin, blackhead removal,
4. Bipolar RF Radio frequency:
Improves fine lines on the eyes, enhances firmness, and brightens eyes,Face lifting / Skin tightening/ Wrinkle smoothing / Face contouring
5. Cold Hammer: Shrinks pores, tightens skin, removes wrinkles, promotes collagen hyperplasia, eliminates redness and sensitivity, and fades dark circles and bags under the eyes.
6. Hydrogen Oxygen( H2-O2) Spray Gun: Combining with essence , the instrument produces oxy-hydrogen, which can be quickly penetrated into the dermis through high pressure inj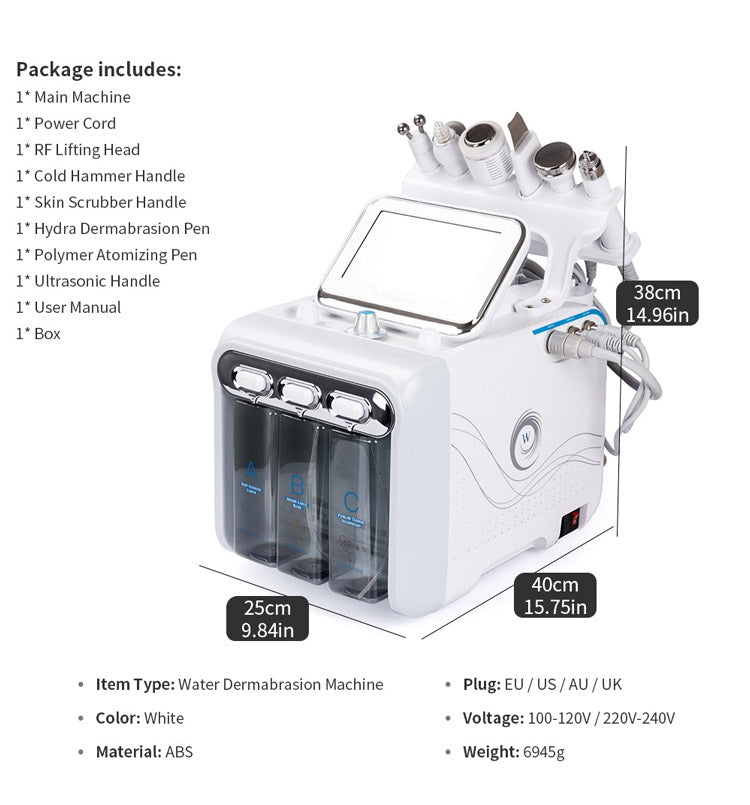 When Will My Order Ship?
Orders for in-stock merchandise placed on weekdays before 1pm EST are usually processed within one business day for shipment. Sanwei group cannot guarantee any specific processing time, and processing times may vary in the event of natural disaster, inclement weather or peak periods.

Shipping Restrictions
Certain destinations are only serviced by select shipping methods. Depending on the shipping address you specify, you will only be offered shipping method options that are valid for that address type.